08-19-12 fishing report by Captain Van Hubbard. We were blessed with some good fishing last week.
We have Spanish Mackerel scattered from Venice south to Boca Grande Pass. We are catching them inside both Charlotte Harbor and even into Lemon Bay; plenty of action up by the Venice Pier too.  This fishery will only continue to improve until we get into December and cold weather. Those larger kings will not be fare behind. The big run is still a ways off I'd guess November for the peak runs; but we'll have fish and fun chasing em around the peak activity.
Snook remain closed this fall, but we are catching plenty of fish. I saw some big trophy fish last Thursday morning but they were not hungry for the smaller minnows we had. I'm sure larger threadfins would entice bites if we invest the time to find some. The white bait minnows are growing and will just improve as they grown-up. We caught eighteen snook, from 20 – 30 inches, yesterday up by Turtle Bay. Our snook fishing will only improve as it starts to cool down this fall.
Redfish are bunching up now. We are seeing some bunches of larger redfish already. They still get pressured more than other local fish but this is the quiet time of the year and your best shot at reds. Most folks are tied up and we have the least boats out you'll see here. We caught redfish on both lures and minnows/pinfish this week.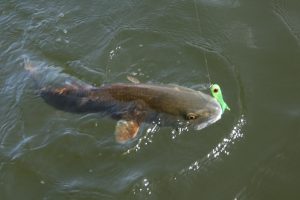 Trout are looking great now. We had over thirty yesterday on both whitebait and small pinfish. Some were smaller but half were slot fish over 15 inches. Noisy popping or rattle corks help call in hungry fish; if you work them! I enjoyed some fresh fish for my lunch today. Pan fried trout, tasty and healthy.
I'm looking at new motors and excited about the new 200 HO Evinrude I ran this weekend with a friend. Unbelievably fuel efficient and much quieter than my Yamaha shifting gears. Please share your input on outboard motors because I'm seriously shopping!
I'm catching up at home when off the water and getting out enough to stay up on the fishing. I'm not pushing things until it cools off some but we did especially enjoy last weekend's trips because it was overcast and not too hot. We avoided the rain caught plenty of fish. October and November should be great catching and it's time to start locking in your dates now.
Let's Go Fishin' soon. Captain Van Hubbard. www.captvan.com thank you.