Eco Charters and Tours
Boating, bird watching, photography, shelling, remote island trips, lunch or dinner cruises are great examples of things we also do on area waters.
Try just looking over the area. With so many new folks discovering the ecology of Charlotte Harbor/Boca Grande area we frequently get couples wanting to see it from the water perspective before purchasing and moving here.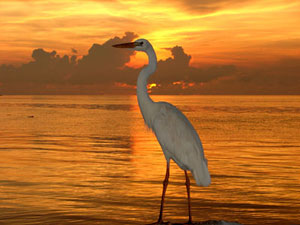 Eco charters can consist of bird watching and photography around pristine Charlotte Harbor and barrier islands.
We have huge flocks of magnificent white pelicans, and of course brown ones too. We have so many Ospreys they almost become a nuisance nesting on rooftops. Bald Eagles and dolphin are almost an everyday attraction. Wading birds are everywhere too. Various Herons, Egrets, and many more. We see Rosette Spoonbill and manatees frequently. We have winter visitors (both birds and snowbirds) from the North migrating to our warmer climate.
By quietly utilizing our electric motor or poling around we can observe and photograph with minimum disturbance. Video cameras with adequate zoom are great here too. A tripod helps stabilize things for sharper pictures. My Canon lens has image stabilization feature that really helps here too.
If you are into pictures to share and memories to treasure we have the wildlife to explore. We can customize your adventure to include remote island shelling or picnics. Use your imagination and we can usually accommodate.
Lunches or dinners at area restaurants, like the Stump Pass Lighthouse Grill. Moon light, sunset excursions or combinations. Your imagination and the weather are our boundaries. Prices vary according to cruising time and length of our trip. Minimums start at $300 and up for longer excursions. We can accommodate four on an eco charter with enough room to snuggle six if necessary.