Family FUN Fishing…
For 40 years, Captain Van Hubbard has provided his customers with courteous, professional fishing charters and first-class access to the inshore and near-shore waters surrounding Boca Grande and Venice, Florida. Using quality tackle, Captain Van has over 100 rigs to select from to optimize every opportunity encountered on the water. This plus his thirty-four years local guiding experience ensures joy and memorable adventure for anglers of all ages and experience levels.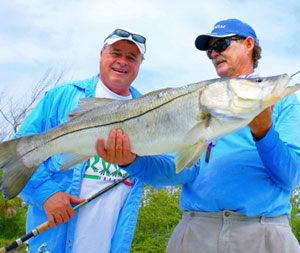 People are different, and therefore, have different expectations and needs. To help make your fishing trip a success, please communicate your ideas and wishes to Capt Van. There is flexibility with most aspects of a charter – for example – Capt. Van can make a stop for lunch or you can carry it along. The captain may target specific species or just go after whatever is biting – you will usually catch more if you target what's biting (see the current fishing report). So please, let the captain know if you have any special needs or requests.
Kids over 6 years old are always welcome, but young children do require FULL-TIME attention on a boat. Captain Van enjoys teaching kids of all ages to fish and specializes in Family Trips!
March through June is the area's prime-time and early reservations are encouraged. Capt. Van will help you try to find another qualified guide if he's already booked.
Normal departure time is 8:00 am, but this can be customized. Fishing charters between March and November usually involve fishing with live minnows which Captain Van castnets prior to your arrival whenever possible.
On tarpon fishing trips, a 6:00 am departure is encouraged and recommended. This will put you on the big Silver Kings at sunrise, and you'll usually be hooked up before 7 am. Catching is usually better on weekdays because the weekends are more crowded.
If you're traveling a long way Captain Van suggests you schedule more than just one day charter. Multi-boat trips are always available to accommodate any party size.
Charter Rates – Max of 4 adults plus 2 kids under 13.
There is always good fishing year-round in Southwest Florida, however, some fish are seasonal and only available certain times of the year.
---

Family Fun Fishing -Up to six passengers, with maximum of three fishing at a time. Anglers of all skill levels will have fun, and catch fish!

Targeting whatever is biting… This is also an eco/photo adventure observing manatees and dolphins, etc.. Additional hours at $100 per.

4 hours
$500

---

Mixed Species Trips – Fishing Spanish & King Mackerel, Cobia, Barracuda, sharks, Permit, & more. Fishing the Gulf of Mexico's near shore artificial and natural reefs plus wrecks.
5 hours
$650

---

Specialty Seasonal Trips – Captain Van's Premium Tarpon, Snook & Redfish Trip.

Up to six passengers, but two active/casting anglers (possibly three snook fishing) at once.

Tarpon fishing is sight fishing by first spotting fish, then stalking them before casting to the fish targets. Prime time is usually May and June, but tarpon can be available earlier and later. We generally fish from Boca Grande Pass to the beautiful Venice Beaches.

6 hours
$850

---
Deposits
Deposits A deposit of 50% is required to reserve your day of fishing. All cancellations must be made in writing 30 days prior to your trip. If your trip is canceled due to weather, all deposits will be refunded in full.
Location
Location Most charters depart from Stump Pass Marina, located on the mainland between Englewood and Boca Grande. The marina is located about an hour South of the Tampa Bay area, less than and hour South from Sarasota/ Bradenton, about, and around three hours from Orlando.
View Larger Map
Pick up at other sites can usually be arranged; any additional compensation depends on the time and distance.
Weather
The Captain can't control the weather or tides so you must be willing to work around Mother Nature's moods. Weather can create challenges. Captain Van does fish in less than perfect conditions and will make the best of what Mother Nature dishes out.
Lighting, Small Craft Warnings and unsafe conditions are beyond the Captain's control and refunds are available for these instances, but of course, we'll try and reschedule if possible.