Offering full and half day Venice FL fishing charters and Englewood FL fishing charters with Capt Van Hubbard. Venice FL and Englewood FL have superb year-round light tackle inshore fishing for Tarpon, Snook, and Redfish.
Reserve your fishing charters with one of the most respected local fishing guides, Capt Van Hubbard, 941-740-4665.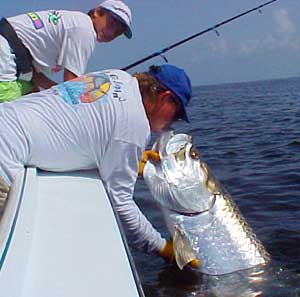 Are you looking for a fishing charter with lots of excitement, screaming reels, giant jumping fish? Call Capt. Van Hubbard and Let's Go Fishin'. Capt. Van Hubbard is one of the most experienced and knowledgeable inshore fishing guides on Florida's Gulf Coast. He has been a professional, USCG licensed year round guide since 1976, and has been fishing Venice FL and Englewood FL, including Charlotte Harbor and Boca Grande since 1981.
Capt. Van is an International Game Fish Association (IGFA) certified captain offering Venice FL fishing charters for Tarpon, Snook, Redfish and other seasonal species. Capt Van's extensive local knowledge makes him a great choice for other "non-fishing" eco-boat tours offered, like: shelling, bird watching, photography, remote island trips and lunch or dinner cruises.
Captain Van offer fishing charters for angler of all skill levels, and has fishing trips designed specifically for kids.. CLICK HERE for more information on kids fishing in Venice and Sarasota Florida.
Here is what Frank Sargeant – outdoor editor Tampa Tribune, editor Florida Sportsman magazine, and award winning outdoor writer – had to say about Capt. Van:
Captain Van Hubbard is one of the best-known and most successful fishing charter guides in Florida. I've had the pleasure of fishing with Van both inshore and off, and he has never failed to put me in the fish. And, he may hold the unofficial record for most Snook caught and released in a day—his grand total of 158 marks him as one of the best in the business.

I'm also impressed by the fact that Van pays his dues as a conservationist — he has been a leading voice for habitat preservation and fish conservation for more than a decade.

I'm proud to number him among my friends and fishing partners.

Frank Sargeant
Happy Thanksgiving to you all.It's been awhile since I've posted because I took some time to enjoy the woods for a change. I went to the North Country to enjoy your hospitality and explore that part of our beautiful country. Farm country is a lot different than South West Florida and we are much warmer. I had some adjustment to the colder temps and even saw some snow.  It was fun and educational but now it's back to work.
          Right now the winds are racking my house so I'm not rushing out on the water. From my fishing friends I'm told all was well and I think it will settle down a a couple of days and be fine; INSIDE. It will take some time to settle the Gulf waves are at ten feet right now!
          Redfish and trout should be better now that waters have chilled some. Whitebait will not be dependable but pinfish, shrimp, and lures will be fine. Snook are going to move to protected waters but we still have a shot. We had some flounder around before this storm and I expect to see more soon.
          Everything will be fine and I excited to be back home in Venice and Englewood, I'm ready to fish. Will be out with a trip Saturday afternoon and see what's going on for myself Friday. It's hard to guess what's going to happen when the Gulf does settle it mainly depends on how long it calms down between fronts. It's off to a rough start but extreme has been the norm recently. Thank you. Let's go fishin' before it really gets cold. Now I do understand why Northerners feel our Winter cold is a chill to them.
Captain Van Hubbard
2013-10-11 web report by Captain Van Hubbard
 Finally everything comes together; fish and weather.
          This is it the bite is on. Wednesday the weather started to settle and bait was hard to find at first but we finally found minnows down by Boca Grande. We caught some trout down around Charlotte Harbor but they were small so we cruised back up to Lemon Bay. We caught a few slot trout and almost big enough snook on our way North and got some fish in the box. We finally got a redfish bite just before low water and landed four, twenty-five in redfish to send my guests home with a nice mess of fish. They enjoyed a great redfish lunch at the Grille before heading home.
          Thursday I joined some friends on their beautiful new thirty-five Ray Hunt. Beautiful boat! We found a big school of striking redfish in front of Boca Grande; they we too big, over slot but an awesome site. It was so colorful with the brilliant bronze redfish running on the surface right by our boat. We finally got some minnows and went kingfishing. We found sharks, Spanish and king mackerel and a few tarpon up by Venice. The bite was not red hot but we constantly saw feeding fish and action. I believe we could do well targeting the tarpon.
          It's time to get ready for today's trip and it's inside today. This is the action we have waited for and we have great weather forecast for almost a week at least. Let's go Fishing. I have Sunday thru Wednesday AM open. Don't miss this action. Captain Van Hubbard. www.captvan.com cell 941-740-4665 evenings after I get off the water.
Life has been busy but we have enjoyed some great fishing.
          We have had some Spanish and king mackerel drop in finally up around Venice. We even had a few tarpon pass thru and could have more down in Boca Grande. Pompano are in and out but when they are here action is good. Snook, redfish, and trout are still available and usually cooperative. All are open this month. We have some windy conditions as I take time to put this together but it will settle fast and offer us some slightly cooler temps and good fishing action.
          Baitfish schools have started to drop into our Venice area. The schools have been large but not holding overnight. It's been a new game everyday. We have even had different types of baitfish every few days. Go figure; fishing keeps you guessing and that's part of the challenge.
          The Spanish have been large, mostly two to three pounds. I'm sure there are smaller fish around, but the ones we taken were while king fishing with very large minnows. The kings have been from ten to twenty pounds, no big ones yet. This action has been great up off of Venice so far.  I expect to see a hot bite this week as waters settle and clear up on the East winds the next few days. I'm hoping we still have a few of those Boca Grande tarpon to play with awhile longer.
          Pompano have not been predictable but we have enjoyed hot action when we can get on the fish. These can be elusive but are fun and tasty delights when we get locked in on them. I'm guessing it will pick up again next week also.
          The inside waters should clear up now that the heavy rains have subsided. I was pleased to observe much clearer waters prior to this big blow. Runoff will linger but at a lesser flow; the heavy rains should be over now?
          Snook, redfish, and trout are ready to play most of the time. It's nice to be able to keep anything in the slots for now anyway. We will enjoy some hot bites and some times need to look around more because everything did move during the dark water times when it was hard to see them.
          It's time to get out and enjoy the milder temps and hotter fishing. I have the 12 thru 15th open right now; then the 22, 24,25th and 28, 29th; and I'm out of here for awhile. So set up something soon or I'll catch up in December after it cools off. Thank you. Let's go fishin' now! Captain Van Hubbard www.captvan.com  cell 941-740-4665
Venice to Boca Grande fishing will peak in October.
          If you want in on the good catching Fall action get your reservations lined up and go fishing soon. Our waters begin to cool off this month and super fish migrations will plunge south and illuminate our near shore Gulf catching. Mackerel, both kings and Spanish are due now. Sharks, tarpon, jacks, and every other migratory species will be working south ahead of the harsh weather. Some time in November the Winter fronts will run our abundant bait off; the game fish follow the food. Snook, reds, and trout are going to hang around but no more easy minnow fishing in November. It's now or next Spring.
          Of course, we will enjoy good trout and red fishing throughout the colder periods but not like now. Some pompano and mackerel will hang with us till it freezes us off the water. I fished Tuesday and tore up the pompano but only got one on Wednesday. That's just how dramatic things change from one day to the next. I'm guessing something weird is up with our weather this fall because the animals are acting strange. It could be a big blow or early cold winter but Mother Nature says she is up to something?
          I'm going to take some time to reflect and enjoy my time here in November; I've worked hard most of my life on this planet and am ready to explore some of my dreams. I'm heading to the North Country to try my luck and explore any skill I may have looking for a big whitetail. I'm very excited about testing my self and growing back closer to the earth. I have been blessed to spend a huge portion of my days on our beautiful Gulf Coast waters I need some dirt under my feet. Thank you for your encouragement and support. I am very serious about how good I expect our fishing to be in October but I'm out of Florida by the First of November!
          Time is flying by and I want to share more with you as time allows but right now this is what it is; let's go fishin' soon or see ya later. Captain Van Hubbard, the Salty Dog is looking forward to some woods time, so go fishing in October if you want to go with me. I'll be working on my website as I make the time; it's past time for changes and updates. I am very happy with my Evinrude E-Tec outboard motor, it's dependable, efficient and powerful; what more could I ask for? I am totally excited about the family trips. I'll promote this more and will also push fun trips ready for action with whatever we encounter. My experience will make sure we are prepared and maybe lady luck will smile on us if we listen close enough? Let's go Fishin' now! <www.captvan.com>
Florida Outdoor Writer's Association conference last week was great.
          I got out snook fishing with a wonderful German family last Wednesday; the fish were biting well. While the kids had trouble with our language they had no trouble with our fish. It took a few minutes to get the bite stirred up but snapper helped us stay busy waiting for snook to get hungry. It's great to see kids smiling faces. Yes, it's hot but most days have a cooling breeze and we start out early to beat the heat.
          Redfish and trout are available from Venice to Boca Grande and Charlotte Harbor. Most recent trips have been family fishing and we concentrate on Lemon Bay with only four hours to play. I'm hearing about pompano but have not had folks that wanted to look for some yet. Mackerel are around and available if the Gulf waters are calm off Manasota Beach up toward Venice.
          Fishing is fine and the big news is that snook opens up Sunday for the first time in years. We have enjoyed excellent snook catching recently so I expect it to continue. October should be even better for everything inside and near shore migrations are due too.
          We held our annual Florida Outdoor Writers Association, FOWA, at River Ranch and I got to fish some fresh water again. It was fun, educational, lots of good industry contacts, and great networking with other outdoor writers. It's wonderful to get into central Florida and enjoy Lake Kissimmee and some woods. The cow country was fun we even attended a Rodeo; it's inspirational to see the younger folks singing our national anthem, waving flags, doing family events etc…
          Monte Goodman to a couple of us bass fishing Friday, it was great, I even caught four bass. We had so much fun together that we went back Sunday morning he caught nice 3 and 6 pound bass on top water. Then we caught a nice mess of Speckled Perch for me. It had been a life time since I got to speck fish; it's still fun. Monte can be contacted at 863-661-7226 if you want to enjoy a day on sweet water; he is easy to share the boat with and very knowledgeable.
          Please enjoy the Labor Day weekend and share time with family and friends; you might even go fishing? Thank you and like Capt. Wilson used to say; "If you're too busy to go fishing you are just too busy!" Captain Van Hubbard <www.captvan.com>