Offering full and half day Venice FL fishing charters and Englewood FL fishing charters with Capt Van Hubbard. Venice FL and Englewood FL have superb year-round light tackle inshore fishing for Tarpon, Snook, and Redfish.
Reserve your fishing charters with one of the most respected local fishing guides, Capt Van Hubbard, 941-468-4017.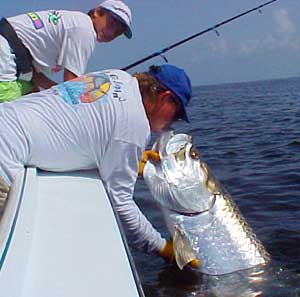 Are you looking for a fishing charter with lots of excitement, screaming reels, giant jumping fish? Call Capt. Van Hubbard and Let's Go Fishin'. Capt. Van Hubbard is one of the most experienced and knowledgeable inshore fishing guides on Florida's Gulf Coast. He has been a professional, USCG licensed year round guide since 1976, and has been fishing Venice FL and Englewood FL, including Charlotte Harbor and Boca Grande since 1981.
Capt. Van is an International Game Fish Association (IGFA) certified captain offering Venice FL fishing charters for Tarpon, Snook, Redfish and other seasonal species. Capt Van's extensive local knowledge makes him a great choice for other "non-fishing" eco-boat tours offered, like: shelling, bird watching, photography, remote island trips and lunch or dinner cruises.
Captain Van offer fishing charters for angler of all skill levels, and has fishing trips designed specifically for kids.. CLICK HERE for more information on kids fishing in Venice and Sarasota Florida.
Here is what Frank Sargeant – outdoor editor Tampa Tribune, editor Florida Sportsman magazine, and award winning outdoor writer – had to say about Capt. Van:
Captain Van Hubbard is one of the best-known and most successful fishing charter guides in Florida. I've had the pleasure of fishing with Van both inshore and off, and he has never failed to put me in the fish. And, he may hold the unofficial record for most Snook caught and released in a day—his grand total of 158 marks him as one of the best in the business.

I'm also impressed by the fact that Van pays his dues as a conservationist — he has been a leading voice for habitat preservation and fish conservation for more than a decade.

I'm proud to number him among my friends and fishing partners.

Frank Sargeant
I hope this finds you and yours in good health and spirits. I'm skipping town this week for some cooler woods time and be home on the 23rd to catch a few fish. Our weather has been almost to warm but good for fishing. We still have minnows and the mackerel migration is passing by. We have both Spanish and king mackerel, tunny, cudas, cobia, sharks and more to test your metal and my gear. we even had a few tarpon last week? Inside fishing is fine if it's windy. We still have snook open this week. I'm off the grid in the woods till Monday the 23rd but can usually get email so let's go fishin' soon. Have fun and a safe holiday.  Captain Van Hubbard
The mackerel migration is red hot from Venice to Boca Grande. We are catching more than I want to clean. You can have fun with strong fish and take a mess home too. the Spanish are about two pounds each and king average about fifteen. If you want to enjoy some of our best action this is it.
There are some tarpon mixed in off Boca Grande and plenty of sharks. We have caught our first cobia and even a blackfin tuna off Venice. Bait fish schools have moved in and action will last as long as food hangs around.
Inside action is good around Englewood also; but not the red hot action like in the Gulf right now. Some nice Charlotte Harbor snook are hungry and the season is still open. Fall action is cranking; you can't catch fish if you don't go fishing. Let's go fishing' soon!
Captain Van Hubbard
Our weather is beginning to cool off every so slightly. The days are shorter and animals know the season is changing. Boca Grande and Venice Beaches are actually quiet right now. Business are glad to see visitors now. We will see more baitfish moving into our waters accompanied by hungry schools of mackerel and much more. sharks, cobia, even tarpon will migrate into and through our area for the next two months. We can expect good action until weather gets down right cold.
Inside action is already improving. We actually have too many baitfish right now.  Most are very small but schools of minnow are everywhere. It's a mix of several types of minnows and pinfish. Set up and chum most anywhere to fill your well. Just be sure you use a 1/4 inch mesh net! As soon as these minnows start to grow up and move around catching will improve.
Snook, reds, and trout are okay now and improving. Charlotte Harbor and Lemon Bay are just filled up on abundant minnows right now. Things will improve dramatically as soon as waters cools off a little more. Water temps are already starting to cool down. Our days are noticeably shorter and it wont be long before everything lights up. We have enjoyed some awesome sunsets at Englewood Beach recently.
I almost got the 23 Dorado ready for a new owner she is looking and running great. My new rig is longer and wider for mush more room to accommodate families or two couples. I will miss my Dorado but it's time to move on.
Don't procrastinate if you have a specific date you needed to accommodate your group; it's first come first served for reservations. Weekends fill up first now. If you want action and a mess of tasty fish don't miss the fall Mack Attack. Remember that you can't catch fish if you don't go fishing. Let's go fishin' soon. Captain Van Hubbard
The new rig is ready to fish but I'm customizing her as fast as possible. Also I'm looking for a name? Your ideas are welcome. I need to include some personal maintenance too; my skin and eyes need some procedures so I can be ready. 40 years of fishing require me to fix this not as young body once in a awhile.
Snook season opens on 1 September and we expect good action from Boca Grande to Venice Beaches. Redfish are bunching up plus trout get hungry now too. inside action picks up as Fall approaches SouthWest Florida.
The 300 hp, Yamaha is the perfect power for this larger platform. we can cruise comfortably at 25 MPH on about 2 MPG with passengers. I'm very excited about the up coming Fall fishing opportunities, especially our mackerel migrations. Both Spanish and kings are due to move in next month and light up our catching. Both are tasty when handled properly and I'm glad to share recipes. Sharks, cobia, and many other opportunities are available with these impressive fish migrations. If you want action don't miss the October and early November  excitement. We frequently stumble into hungry Tarpon cruising from Venice to Boca Grande looking for mackerel. While we Home Port in Englewood, we do fish up or down our coastal waters.
The family trips are my favorite because the kids are so interesting.  Their smiles brighten up our lives and create wonderful  memories we all take home. Nothing compares to a child's big smile!
Thank you all for your support and I'll be ready to go for September. Remember that, "you can't catch fish if you don't go fishin'". Captain Van Hubbard
This is the time to start out early and enjoy some good fishing before it gets hot. most days we do get a nice breeze to help out and the shade from the T-Top helps too. I'm upgrading to a new rig; they are installing a powerful 300 Yamaha on her at Cannon's Marine as we speak. It's not a new boat but much roomier; she is 25 feet long and 9.5 wide. Room to move around and a more stable platform to fish from. The plan is to enjoy more action in the near shore Gulf waters, especially in Spring and fall. I'm looking forward to some awesome Spanish and king mackerel action this Fall.
Right now I'm still fishing the trusty 23 Dorado but she is for sale if you want a great 2 or 3 person rig it's perfect.  The tarpon bite has been sporadic but very good most days. the schools are scattered from Boca Grande South to Venice on the North. We have tackled some big silver kings and had a lot of fun stalking the schools. Our waters are beautiful and clear so you can watch the fish. Crabs have been or best baits but minnows are hot sometimes. Tarpon will remain available for the next couple of months.
Snook are starting to show up and we have gotten some nice 40+ inch trophies last week. Fish are up and down the Gulf Beaches from Boca Grande to Venice and the passes too. Minnows are smaller now. We have to invest some time catching a few bigger ones but it's worth the efforts. Snook are Catch and Release but tons of fun on light gear. we get to sight fish most trips.
It's family time and many of my trips are entertaining the kids while down for vacation. These are fun because the kids get to experience so many new and different creatures on our adventures.
Please enjoy your Forth of July Holiday safely and don't wait too long to make your fishing reservations; it is a busy year. Thank you all for your support this is a great year and I'm excited about the new rig.