Offering full and half day Venice FL fishing charters and Englewood FL fishing charters with Capt Van Hubbard. Venice FL and Englewood FL have superb year-round light tackle inshore fishing for Tarpon, Snook, and Redfish.
Reserve your fishing charters with one of the most respected local fishing guides, Capt Van Hubbard, 941-468-4017.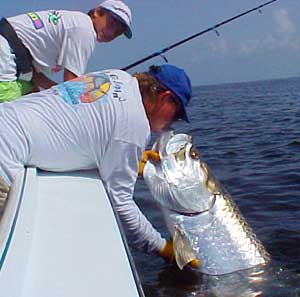 Are you looking for a fishing charter with lots of excitement, screaming reels, giant jumping fish? Call Capt. Van Hubbard and Let's Go Fishin'. Capt. Van Hubbard is one of the most experienced and knowledgeable inshore fishing guides on Florida's Gulf Coast. He has been a professional, USCG licensed year round guide since 1976, and has been fishing Venice FL and Englewood FL, including Charlotte Harbor and Boca Grande since 1981.
Capt. Van is an International Game Fish Association (IGFA) certified captain offering Venice FL fishing charters for Tarpon, Snook, Redfish and other seasonal species. Capt Van's extensive local knowledge makes him a great choice for other "non-fishing" eco-boat tours offered, like: shelling, bird watching, photography, remote island trips and lunch or dinner cruises.
Captain Van offer fishing charters for angler of all skill levels, and has fishing trips designed specifically for kids.. CLICK HERE for more information on kids fishing in Venice and Sarasota Florida.
Here is what Frank Sargeant – outdoor editor Tampa Tribune, editor Florida Sportsman magazine, and award winning outdoor writer – had to say about Capt. Van:
Captain Van Hubbard is one of the best-known and most successful fishing charter guides in Florida. I've had the pleasure of fishing with Van both inshore and off, and he has never failed to put me in the fish. And, he may hold the unofficial record for most Snook caught and released in a day—his grand total of 158 marks him as one of the best in the business.

I'm also impressed by the fact that Van pays his dues as a conservationist — he has been a leading voice for habitat preservation and fish conservation for more than a decade.

I'm proud to number him among my friends and fishing partners.

Frank Sargeant
Finally our winds back off a few days to allow access to great near shore Gulf fishing.
          We had a couple days we could get out and enjoy the mackerel bite on the near shore artificial reef systems. The action was almost too fast for me to keep up with the Makowski Family Wednesday morning. They wanted to enjoy some family time saltwater fishing. We got lucky on the weather; so they had the time of a lifetime. Older daughter Abby actually suffered a sore arm from reeling in so many fish, seriously, lol. Brother Noah stayed on his game and even had a big barracuda thrill as the three foot fish chased his big blue runner right beside the boat. It even jumped alongside and had everyone excited. Kylie was the youngest but caught so many fish she lost count; but did claim all if them at the cleaning table on Little Gasparilla Island after out trip. This Michigan family went home with a mess of fish and some wonderful memories. It was a pleasure to help Kyle and Katy share quality time with their awesome children.
          The inside/bay fishing is still up and down with no minnows yet? Our waters are warming back up again; so I have my Captain Van's Magic Chum handy and ready when minnows do show up. Trout and macks save or trips inside but I do expect to see more snook soon. We are getting a few on shrimp but minnows will help here as the pinfish are back. We are catching fish most of the time but not like I'm used to; I could be a little spoiled?
          We trolled blue runners awhile up by Venice for king mackerel again yesterday but none yet. Bait outside is available but not showing at the surface. The warmer water should help here too. Predictions are for continued warming so Spring appears to be arriving here now. Birds are headed north and flowers are blooming.
          Boca Grande tarpon and snook action will pick up soon don't miss the action. I have limited openings so don't wait to make your reservations please. If I'm already booked I can usually help you get hooked up with a good guide. Also note that you may want to give me the chance to talk with you before you book because the captain fishing during the day is on top of the fish while the guys at home answering the phone is, well at home! Book with local guides and get the experience you desire and pay for. Thank you Captain Van Hubbard
Fishing forecast for 24 March 2014, by Capt Van Hubbard.
          We are enjoying some good fishing when winds allow us to go where we want. Business is amazing so get your reservation request in ASAP if you want to fish with me. Our recent catching has been directly correlated to the wind speed and direction; good weather has allowed us good catching. We have been able to catch a mess usually on the windy days. We should be getting into April weather soon and I'm expecting the bite to light up very soon when ever it calms down and warms up slightly. 
          My family trips are so much fun and Spring Break is into full swing. It is great to share time with the children, parents and even grandparents. The smiles, memories created, and family time are truly priceless. The manatees and dolphin keep us occupied when fish tease us.
          The mackerel have come up to us in the Gulf but winds only allow us the get to them some days. We have enjoyed several tasty lunches of grilled mackerel for lunch after our trips recently at the Stump Pass Grille. A few larger ones add to our bay trips. Trout are active and tasty dinners for the fish hungry folks.
          The larger kingfish should be here whenever this wind backs down to let us get to them. Several captains have caught a few in the deeper Gulf. Water temps are right for mackerel and almost warm enough for snook to get more active. Minnows are not available yet but any day this could change. I keep my castnet handy and got my Captain Van's Magic Chum in a month ago.
          Everything is shaping up for the best year in a long time what a blessing for all of us. Thank you, Captain Van Hubbard www.captvan.com.
Full Moon and a fast weather system blew though to restart our fishing cycle.
          Getting a late start today allowing the wind to back down and temps warm up a little this weekend is expected to be beautiful. We caught some tasty trout, plump pompano, and speedy mackerel the last few days. Jacks and ladyfish helped keep the poles bent and anglers smiling. Was blessed to enjoy several family trips and the children are so much fun. They are happy catching a little bit of everything plus plenty of dolphin and manatees viewing.
          I heard there were a couple of big king mackerel caught last week down at Boca Grande Pass. The Spanish and king mackerel are due to come ashore by Venice Beach as soon as the waters clear up after our west winds settle.
          With the cold weather and spring break vacations up North business is great. If you want to set up a trip I have the 16th 28th, 29, 30th open right now so don't procrastinate. I do have other captains I can help set you up with so please email me and we'll hook you up ASAP!  About half of April is still available and we can expect snook and red fishing to improve inside. While the near shore Gulf of Mexico is ready to light up with the baitfish and mackerel migration due to move into town any time.
          This is prime time so make time to enjoy some family time and catch a mess of fresh fish for dinner.  Thank you for your support and Let's go Fishin' Captain Van Hubbard <www.captvan.com>
Web post for 2-9-14
It's great to get back on the water enjoying our great Venice to Boca Grande fishing.
The boat is looking much better with shiny exterior and our weather has even cooperated most of the last week. I was able to find some nice trout and pompano for our dinner table plus plenty of ladyfish and jacks for fun. The Spanish mackerel are already showing up but most are small so far. Waters are warming fast inside up to as much as 75 degrees some afternoons last week. The Gulf will require a little longer warm periods because it is a much lager body of water to heat up. We saw several spoonbills and plenty of dolphins as we rode between spots. Life is good you need to give it a try ASAP!
The phone and emails are starting to show many of you are feeling like fishing soon. Please consider planning your fishing adventures as soon as you can to lock in the dates. We both want you to share time on our beautiful waters together. Remember we are just now hitting prime winter visitor season! Spring break for northern kids is coming at us soon. Make you plans and show them our fine fishing.
Snook opens next month and I do expect to enjoy good action. We may have to work for a slot fish but catching snook is always exciting. Redfish and trout will help ensure your fresh fish dinners. Pompano and sheepshead are also around now if you want to try them? The mackerel migration can start up any time if it stays warm. I found a larger school of smaller sharks moving around last Sunday and Monday. Cobia and tripletails cruise the near shore Gulf if you don't mind the ride looking for them. King mackerel are big fun fish and great on the grill too. We have tons of fun playing with kings from ten to forty pounds on twenty pound gear. The mackerel action can be every cast, it gets thrilling.
Tarpon will be here sometime in late April and peak from May through June. We will have silver kings through the summer but the big concentrations are May/June. Don't miss the chance to fulfill a bucket list dream with your trophy tarpon this summer.
Thank you for your support and I look forward to sharing a fabulous fishing adventure with you soon. I fish from Venice Beach south to Boca Grande.
Captain Van Hubbard www.captvan.com ph 941-468-4017
I'm almost ready to get back on the water.
          It was time to freshen up the Dorado so she'll have a shiny new exterior finish tomorrow. I'll be back on the water Wednesday ready to catch fish along our beautiful Venice to Boca Grande shorelines. Of course the weather may be a complication, just like it's been while trying to paint. It's winter around here; we don't have the freezing temps but it is cooler. Our fish react to the weather changes just like we do. Remember they are cold blooded and have to duck out of the colder water when fronts blow down upon us.
          Right now the fronts are coming in every few days. This makes it hard to guess in advance when will be a fair weather fishing date. So my suggestion for this time of the year is call ASAP when you arrive and let's see what day might work for our fishing. Remember that what's cold to me, may be balmy to you. I'm cold at fifty while you may find that a heat wave. I can dress up and make the trip work but you need to communicate as to what is fun weather for your group.
          Trout and sheepshead are abundant and available for eating fish. They are fun to catch and usually not to hard to find. They both are flaky white meat and can be prepared any way you like. The trick is not to over cook any fish! We usually fish live shrimp under a popping cork if we can purchase them. Soft plastics are also perfect for trout.
          Sheepshead can be tricky nibblers and challenging for some to hook. The trick is awareness. You have to feel the bite and set the hook promptly. They are tasty and pull hard. We frequently stop at Stump Pass Grille for a fresh catch lunch; with your fish.
          We do have redfish and some days they bite well. Redfish require more patience and can be a gamble some days. We had some tasty pompano around before I started sanding and painting; I'm looking forward to checking up on them soon. Ladyfish are fun just not as tatsty.
          Snook are cold right now but the season opens in March and I expect good fishing then. It gets busy around here by mid-February so reservations are recommended; especially from April on thru June. I suggest setting up a date early in your trip and then we may be able to adjust to catch better weather if space is available. Reservations are first deposit in, holds that date. We can sometimes get in more than one trip as it warms up some. Please let me know if you prefer mornings or afternoons? Longer trips are fine just let me know.
          Mackerel will be back before you know it and tarpon by late April if it warms normally. January actually started out warm but changed quickly to colder temps mid month. It's impossible to guess what we can expect next month but the weekend forecast is for beautiful warm weather. So let's go fishin' soon.
          I'll be at the Boca Grande Community Center, Saturday to help out Save the Tarpon's, first Kids and Parents Beginning Fishing Seminar. This is to educate parents so they can share the fishing experience with their kids.  We are even providing them with rods and reels, plus starter gear.  We are excited that it filled up promptly and the guide instructors are looking forward to sharing our experience with the families. Then I'll be at the Boca Grande Fishing Club for lunch and sharing fish stories with them. So many seasonal residents miss out on our great summer tarpon and snook fishing. So I'm going to try and convince some of them to come back and see what they are missing. Our sight casting to big fish makes awesome fishing adventures.
          I'm optimistic that this will be a much better tarpon season since we got that weighted hook "jig" outlawed in the Boca Grande Pass. Everything is shaping up for a busy and productive fishing season. I'm looking forward to seeing you soon. Captain Van Hubbard. <www.captvan.com>