Offering full and half day Venice FL fishing charters and Englewood FL fishing charters with Capt Van Hubbard. Venice FL and Englewood FL have superb year-round light tackle inshore fishing for Tarpon, Snook, and Redfish.
Reserve your fishing charters with one of the most respected local fishing guides, Capt Van Hubbard, 941-468-4017.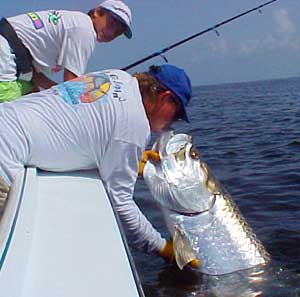 Are you looking for a fishing charter with lots of excitement, screaming reels, giant jumping fish? Call Capt. Van Hubbard and Let's Go Fishin'. Capt. Van Hubbard is one of the most experienced and knowledgeable inshore fishing guides on Florida's Gulf Coast. He has been a professional, USCG licensed year round guide since 1976, and has been fishing Venice FL and Englewood FL, including Charlotte Harbor and Boca Grande since 1981.
Capt. Van is an International Game Fish Association (IGFA) certified captain offering Venice FL fishing charters for Tarpon, Snook, Redfish and other seasonal species. Capt Van's extensive local knowledge makes him a great choice for other "non-fishing" eco-boat tours offered, like: shelling, bird watching, photography, remote island trips and lunch or dinner cruises.
Captain Van offer fishing charters for angler of all skill levels, and has fishing trips designed specifically for kids.. CLICK HERE for more information on kids fishing in Venice and Sarasota Florida.
Here is what Frank Sargeant – outdoor editor Tampa Tribune, editor Florida Sportsman magazine, and award winning outdoor writer – had to say about Capt. Van:
Captain Van Hubbard is one of the best-known and most successful fishing charter guides in Florida. I've had the pleasure of fishing with Van both inshore and off, and he has never failed to put me in the fish. And, he may hold the unofficial record for most Snook caught and released in a day—his grand total of 158 marks him as one of the best in the business.

I'm also impressed by the fact that Van pays his dues as a conservationist — he has been a leading voice for habitat preservation and fish conservation for more than a decade.

I'm proud to number him among my friends and fishing partners.

Frank Sargeant
This is the time to start out early and enjoy some good fishing before it gets hot. most days we do get a nice breeze to help out and the shade from the T-Top helps too. I'm upgrading to a new rig; they are installing a powerful 300 Yamaha on her at Cannon's Marine as we speak. It's not a new boat but much roomier; she is 25 feet long and 9.5 wide. Room to move around and a more stable platform to fish from. The plan is to enjoy more action in the near shore Gulf waters, especially in Spring and fall. I'm looking forward to some awesome Spanish and king mackerel action this Fall.
Right now I'm still fishing the trusty 23 Dorado but she is for sale if you want a great 2 or 3 person rig it's perfect.  The tarpon bite has been sporadic but very good most days. the schools are scattered from Boca Grande South to Venice on the North. We have tackled some big silver kings and had a lot of fun stalking the schools. Our waters are beautiful and clear so you can watch the fish. Crabs have been or best baits but minnows are hot sometimes. Tarpon will remain available for the next couple of months.
Snook are starting to show up and we have gotten some nice 40+ inch trophies last week. Fish are up and down the Gulf Beaches from Boca Grande to Venice and the passes too. Minnows are smaller now. We have to invest some time catching a few bigger ones but it's worth the efforts. Snook are Catch and Release but tons of fun on light gear. we get to sight fish most trips.
It's family time and many of my trips are entertaining the kids while down for vacation. These are fun because the kids get to experience so many new and different creatures on our adventures.
Please enjoy your Forth of July Holiday safely and don't wait too long to make your fishing reservations; it is a busy year. Thank you all for your support this is a great year and I'm excited about the new rig.
April, 10, 2015
Busy time but awesome fishing. Our waters are crystal clear and fish are biting. We are catching all the king mackerel we want to and it is exciting action. It's so awesome to hear them scream line of my Cabo 40s. They bend our poles and put big smiles on client's faces. There are a few cobia and permit available too. Outside action is hot.
Inside action is fine but there is a lot of folks fishing Charlotte Harbor and Lemon Bay right now. I'm staying outside when I can. The trout action is good with some nice fish and a few fat Spanish mackerel mixed in too. Baitfish are here; but the gumbo, messy grass is a nightmare.
Some tarpon have cruised through but nothing steady yet. Some good action if you time it right. I'm busy and thankful. Don't procrastinate or I'll be glad to hook you up with a qualified friend. Thank you. Captain Van
April 1, 2015. It's the busiest year I've ever seen we have been discovered and it wonderful to be able to share a day on our waters with visitors. The catches are varied as are the trips. we have had some big king mackerel lots of smaller Spanish when we find them. There are a lot of boats in the back country but we did enjoy a red hot snook bite last Friday; it is not dependable but do enjoy some good days.
The family trips are fun and  productive. We catch whatever is biting and let the youngsters enjoy their special day. We catch mackerel, snapper, trout, and fun fish with a few pompano for dinner. the smiles are priceless don't forget the cameras. Please get your reservations ASAP or I can help you find a friend qualified to help you enjoy our Boca Grande to Venice fishing. PS a few tarpon are already showing up south of us; they will be here soon. Got to go the fish are biting! Captain Van
2015, February, 19th. Fishing is bouncing around as much as our weather.
We certainly can't complain about cold here with the ice box everyone else is enduring. It has been chilly by our standards recently. The fish are as confused as we are. We've enjoyed some good action on the warmer days. It's predicted to get back into the mid-seventies for Sunday; Spring should arrive down here in Venice soon. March is almost here and bookings are looking good for me; so please make your reservations ASAP! The grandchildren are coming and we both want to share time of our beautiful Charlotte Harbor waters with them. Family trips are my favorite; smiling kids are the best.
Trout and pompano were providing some fine fun and great eating before the cold weather shut us down. Weather warms up as fast as it chills so we will back at it this weekend. Sheepshead are hungry and will turn on as soon as we can get to them on the near-shore Gulf reef system. The structures are scattered from Boca Grande south, up past Venice Beach in about forty feet of water from three to seven miles out. They also hold some cobia, snapper, and flounder frequently. When waters warm back up into the seventies the migratory mackerel, sharks and so forth will travel into our waters. We have fish now and it will improve every time it warms up until Summer.
I'm very excited about the next few months fishing. March and April the Spanish Mackerel are due; fast, fun, tasty, and abundant. The action frequently gets too fast to keep up with. Their larger cousins the kingfish will move in and scream our drags. The Spanish run up to five pounds and kings usually average about twenty!  Sharks actually become a problem many days because they can be hard to get away from. They even chew up some of our mackerel. Everything follows the baitfish schools. We just watch for local water temps to reach about seventy degrees.
Snook fishing opens in March and usually picks up at about seventy-five degree water temps mid-month. We need those minnow schools for bait to turn on snook. Englewood's Ski Alley was off last year and I'm anxious to see how we do this summer. We usually get good snook action off Venice beaches about May. Tarpon will begin to move into Boca Grande in late April to early May and peak in June.
Life is treating me well so far; I'm looking forward to seeing old friends and meeting new ones as our season progresses. Lots of good things happening in fishery management and the future outlook is good too. Thank you, Captain Van Hubbard
Fishing blog for February 2015. Captain Van Hubbard
We have enjoyed good fishing action on most trips recently. This last week was cooler than previous and it did slow things down some. We have had some nice pompano and a mixed bag to go with it. This is down with Doc's Goofy Jigs sweetened with a tip it of fresh shrimp. We drift on still days and anchor if our drift is too fast. This is casting and bouncing along the bottom to entice bites. We have been catching Spanish Mackerel, trout, ladyfish, a few sheepshead and variety of pole benders. We move around a lot to try and keep up with moving fish. The scenery is awesome with dolphin actually becoming a nuisance because they are always hounding us.  Some folks are obviously feeding them since they hang around so much. We frequently see manatees and a lot of other wildlife to enjoy.
I'm expecting the sheepshead bite to improve dramatically after this Full Moon. Our winter has been very mild and this seems to be setting the sheepshead run back a couple of weeks. They are just starting to show up around the flats edges and near passes. As they bunch up they get aggressive and are much easier to catch. While these may not be a glamor fish they are fun to catch and very good eating. Nice white flaky filets. We frequently stop by the Stump Pass grille to fry some up after our trips. That's really fresh fish.
It won't be long before our kids start getting out for Spring Break and Easter Vacations. It's time to set up your reservations so you can be sure we get to share a day on our beautiful waters. These experiences are exciting and memorable.   Family time on the water is always remembered as we get busy with everything else. Just think about your childhood fishing experiences and smile.
Snook and tarpon will be back in our picture from Venice to Boca Grande, before you know it so don't procrastinate on those reservations either. We have some awesome mackerel fishing as the Spring migrations cruise by Venice Beaches, starting in March. The sharks will be following along and hungry if you want bigger bites. On your line of course. While we think it's chilly now when it gets into the 40s friends from the north just laugh and hope they see these temps for highs.
Please check out and like the Facebook Captain Van Hubbard pages plus our links to Trip Advisor too. Thank you all and Let's go Fishin' soon. Captain Van