Offering full and half day Venice FL fishing charters and Englewood FL fishing charters with Capt Van Hubbard. Venice FL and Englewood FL have superb year-round light tackle inshore fishing for Tarpon, Snook, and Redfish.
Reserve your fishing charters with one of the most respected local fishing guides, Capt Van Hubbard, 941-740-4665.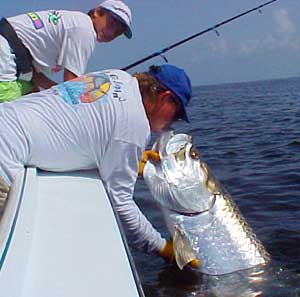 Are you looking for a fishing charter with lots of excitement, screaming reels, giant jumping fish? Call Capt. Van Hubbard and Let's Go Fishin'. Capt. Van Hubbard is one of the most experienced and knowledgeable inshore fishing guides on Florida's Gulf Coast. He has been a professional, USCG licensed year round guide since 1976, and has been fishing Venice FL and Englewood FL, including Charlotte Harbor and Boca Grande since 1981.
Capt. Van is an International Game Fish Association (IGFA) certified captain offering Venice FL fishing charters for Tarpon, Snook, Redfish and other seasonal species. Capt Van's extensive local knowledge makes him a great choice for other "non-fishing" eco-boat tours offered, like: shelling, bird watching, photography, remote island trips and lunch or dinner cruises.
Captain Van offer fishing charters for angler of all skill levels, and has fishing trips designed specifically for kids.. CLICK HERE for more information on kids fishing in Venice and Sarasota Florida.
Here is what Frank Sargeant – outdoor editor Tampa Tribune, editor Florida Sportsman magazine, and award winning outdoor writer – had to say about Capt. Van:
Captain Van Hubbard is one of the best-known and most successful fishing charter guides in Florida. I've had the pleasure of fishing with Van both inshore and off, and he has never failed to put me in the fish. And, he may hold the unofficial record for most Snook caught and released in a day—his grand total of 158 marks him as one of the best in the business.

I'm also impressed by the fact that Van pays his dues as a conservationist — he has been a leading voice for habitat preservation and fish conservation for more than a decade.

I'm proud to number him among my friends and fishing partners.

Frank Sargeant
  2013 May 15th fishing report.
First I apologize because I have not posted in way too long.
          Venice to Boca Grande fishing is awesome and business has been great and I am tired when I get home. I do have some opening coming up soon and we are enjoying prime time tarpon action. We have big, to very big silver kings and usually encounter hundreds of fish per day. Several usually bite if we put our baits in front of em. If you want tarpon come on down now!
          We are not the only folks to know Boca Grande is full of fish so we do want to start out very early and get underway by 6AM. It is early but we can find happy fish before other stir em up. We usually hook up by 6:30 or 7 AM. It's fun to tackle big fish before the sun gets high and warms us up. The Dorado does have a nice shady T Top to protect us from the bright Summer sun. the Evinrude E-Tec is quiet and powerful, she gets us too and from fishing grounds efficiently.
          We fished the Boca Grande Lady's Day Tarpon event last Saturday and my quiet Evinrude helped us take second place with forty two boats participating. We caught a big tarpon and released it for Kathy and it was her first. She was ecstatic. The awards banquet was fun and our Chamber did a great job. My crew was the best! Photos are on my facebook page Captain-Van Hubbard, please check em out.
          Snook and trout have been biting well and we have caught a few nice redfish too. Minnows have been work to catch because of the floating algae but it is great bait. Since tarpon is in full swing the boats are not bad usually in the Back Country of Charlotte Harbor. Weekends can get crowded but we are still catching quality fish. If you want big trophy snook it is good and stays hot for the next few months.  Fish for dinner is fine too.
          Sharks are abundant if you like toothy critters! We have all kinds of opportunities if you want variety just ask and we can probably do it. Permit are on the near shore reefs and barracuda abundant now too.
          Please let me know if I can help, just check out the web pages and I'm doing a weekly report in the WaterLine also, a Sun family newspaper serving Southwest Florida coasts. I want to update more current info on the web site and need new photos of my Evinrude but it's hard to get good shots from on board. Maybe the Boca Beacon will let me use the awesome shot they posted. I'll ask ASAP! Thank you all for your support and I am so happy to be able to enjoy great fishing and your company too. Captain Van Hubbard <www.captvan.com>
Captain Van's fishing forecast for 4-21-13
 We are enjoying great, fun fishing around Boca Grande to Venice.
          The Gulf has been rocking and rolling much more than usual recently; I do hope it settles soon so we can play more outside. I'm ready for king mackerel, sharks, and tarpon. Meanwhile we are catching fish inside the protected waters of Charlotte Harbor and Lemon Bay. Snook, trout, redfish and jacks are bending rods and keeping customers smiling!
Snook have decided it's warmed up and they are active now. We've caught some dandies recently. Check out the <Captain Van Hubbard> Facebook site. Everybody has enjoyed some hot action. Tim Moore, Russell Sheaffer, and others had great action on recent trips.
          Redfish are even showing up and adding some color to many recent trips. I wish they were more predictable but it's still nice when they show up. It should get even better on this moon.
          Trout are red hot and plenty of big ones. Most fish are slot and many too big. We released several fish over twenty-five inches last week. It's fine to keep a mess of fresh fish to eat; just release most of the big ones as they are full of roe.
          We had some awesome jacks that really tested our metal and gear. Some jacks are almost twenty pounds; very strong fish. The new Cabo 40s and Cortland Master Braid lines are helping subdue the big ones. We even have had to pull anchor and follow several big fish in the last two weeks. It has been windy but still productive.
          Baitfish are not easy and can be challenging especially on the windy days. We have minnows around it's just this crazy weather keeps everything jumping around and we have not consistency. Every day is a new experience and adventure, but that's part of the beauty of fishing it changes daily.
          Tarpon and snook are down around Boca Grande and south. The Gulf is active just too rough much of the time. It seems that as soon as it settles and clears another front stirs it back up! We already enjoy great fishing but it will actually improve as winds allow us outside more to get at the other fish. Venice Beach is due to light up with mackerel and kings whenever it calms down.    
          I'm sorry I don't have more time to play here but the fish are biting, my Evinrude/Dorado is waiting and I've got to get ready. Thank you for you support.  Save the Tarpon is working; follow both of us on our Facebook pages. We have more protection for tarpon to be formalized in June, plus complete catch and release for bonefish. Most important, the June meeting of Florida Fish and Wildlife is going to be the big one about that weighted snatch hook. From the questions and statements by commissioners last Wednesday it looks like they finally understand the Boca Grande tarpon issue is about an unethical snag hook not live bait vs artificials! I went and spoke with several prominent members of our community; it was great to be a part of such and important event! Please visit our Facebook pages. Randy Wayne White, let if fly in Tampa Tribune article on 4-14, "Fishing's dirty little secret". The world knows the truth about this mess; it will help reestablish and rebuild Boca Grande's world famous tarpon fishery! Gone fishin', Captain Van Hubbard. <www.captvan.com>
Boca Grande fishing has been great and Venice is due to turn on now!
          Last week our Boca Grande snook fishing finally turned on big time. Englewood trout and redfish are biting too. We found hungry fish all over Charlotte Harbor and Gasparilla Sound. Our waters have warmed up and the fish are hungry. Minnows can be a challenge but they should get easier. We do have minnows around it's just the trash algaes are adding extra weight to our nets.
          I am enjoying my expanded range thanks to my Evinrude E-Tec's efficiency to re-discover many of my old stomping grounds around Charlotte Harbor. My new Quantum reels and Cortland braided lines have been shipped; I'm looking forward to spooling em up and kicking it up a few notches! The new improvements in both should give us even longer casts and more control of big fish!
          Fish have been holding in the usual Spring habitats; deeper edges and structures. Long fluorocarbon leaders help in our clear waters! Be patient and use fresh baits. Ease in and out of areas for best results; many of us are fishing the same spots! Area waters are warming up fast!
          I'm hearing about some pompano but we didn't get to try any recently; everything else is too good to leave. Spanish and kings are due around Venice but they are already some around Boca Grande. Some must have gone by in recent windy times? I heard they caught a few sailfish off of St Pete last week also, so we'll be ready when we go today.
          Tarpon are in range if you're ready for the ride! Expect to work for them but the first ones get the best catching! Boca Grande does have some tarpon in the Pass. After all, fishing is a gamble and we have to take chances to get the shots at good fishing! Sharks are already showing up. Permit are due. Barracuda are sunning on the reefs. It's time to enjoy the hot action before the crowds descend and make it harder. I do have several openings in the next few weeks so don't miss out; get a reservation now this is as good as it gets. We enjoyed every cast bites on trips several times recently!
          Thank you for your support. Let's go fishin' soon. Captain Van Hubbard. www.captvan.com also check out Captain Van Hubbard on Facebook!
Captain Van's Venice to Boca Grande fishing report for 4-1-2013
 Our weather finally came back to warm southerly breezes and fish started to show up on Friday and Saturday. We are finding lots of Spanish mackerel and some pompano around the near shore and Gulf Passes. A few snook and bigger trout are blessing our catches. Sheepshead are abundant if you can hook them; Friday's group caught a mess and Saturday we had to settle for pompano and trout. Of course we were glad to settle!
As weather warms up the Gulf waters everything will show up. Baitfish migrations are due and hungry schools of fish with them. I am booked up this week but open several days a week after. May and June have several holes so don't miss out like about twenty folks did in the last two weeks.  Business is picking up with the improved fishing and weather. If you want to take advantage of the awesome spring Boca Grande and Venice fishing please lock in your reservation soon!
I'm sorry this is brief but I am fishing every day and tired. I hope your Easter was blessed and look forward to fishing with you soon. Captain Van Hubbard.
PS tarpon and snook fishing is close!    <www.captvan.com>
Looks like Spring is arriving here in Venice Florida.
         It was chilly this past week and it slowed our catching down. Our coming week we anticipate warming temperatures and better fishing. Our fishing depends upon the weather conditions; we will adjust our times, even dates if we can, to ensure your best probabilities. The beauty of inside fishing is we can usually find a productive, protected area to hide and catch a mess of fish. Warmer helps and it looks like the cold and red tide are gone.
          We did enjoy a good redfish bite when we got lucky and had the right tides along with south breezes to turn on the bite. Snook were cold last week but I do expect them to get hungry when waters warm up into the seventies any time. Trout are around and we just could not cruise around last week because it was too cold and windy. We did manage some more pompano but you will need to invest some time and efforts to enjoy this gourmet dinner. They are some around but they keep it challenging. More pompano and the mackerel migration should drop into our Boca Grande area any day.
          Tarpon are not in range for a month or so would be my best guess; but Mother Nature can push fish north faster or hold them south. I'm optimistic that we will see more manners around the Boca Grande Pass this year; yes I'm crazy but I believe many will see we all benefit from "happy tarpon"! It seems to me most of us should be able to comprehend that scared fish are not good for fishing or businesses. Please follow "Save the Tarpon" on facebook or the web site to stay up on happenings. Public awareness should maintain the push to regain respect for our silver kings!
          With Easter early this year if you haven't made your fishing reservations for the week before or after I'll try to help but those weeks are reserved as of now. I do have March 20th and 22nd open plus some dates after April the 11th! Other guide friends have a few holes but everyone wants to go at the same time with the holiday. May and June have good week days still open but business has picked up so don't wait too long to lock in your reservations, please.
          Lots of tiny glass minnows are showing up inside so I expect to see some whitebait any day with the warming trends. We have had it off and on all year so they should be close by? We are having a fun Mack Attack event at Whidden's Marina on Boca Grande the 7th of April. This is a family event and prizes will be awarded by raffle so everyone that brings in fish will have the same chance of winning. This is a family friendly event, not a competition, and we'll cook the fish and enjoy sharing stories after fishing. There should be plenty of mackerel action to keep everyone smiling, so don't miss out; only fifteen boats to make sure we have fun.
          Like Captain Wilson Hubbard used to say, "If your too busy to go fishin' your just too busy" don't miss spring fishing action! Put mackerel back on your menu and enjoy our piece of paradise. Get your boats and gear ready spring is here. Captain Van Hubbard. <www.captvan.com>